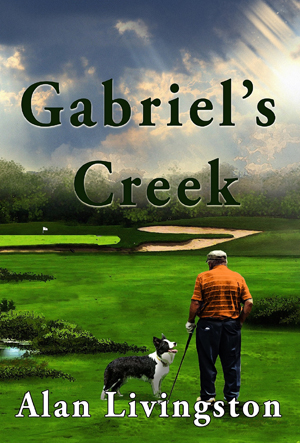 Available Now
14.95
Publisher:

Alan Livingston

Available in:

Paperback, ebook

ISBN:

978-0991560516

Published:

March 22, 2014
Amazon
Gabriel's Creek Golf Course couldn't be found when Chris Collins looked for a course where he could play a special round. Still, there was no reason he should expect anything other than a normal and relaxing day of golf when he stumbled into this easy-to-forget place. He meets the course mascot, a Border collie named Ralphie, a dog they say just showed up one day out of nowhere. Then, a special breakfast ends with the Pro's caution, "This place is magical…You'll see what I mean."
Collins has chosen to spend one of the last days of his life doing something he loves: walking 18 holes of golf. With Ralphie as guide and companion,Gabriel's Creek itself brings out his reflections on life in a tale about family, friends, and commitment, about dogs and destinations.
As his round winds along, the course brings a variety of characters from his past to meet him. These players show much about who Collins is and how he treasured his life's relationships. Along with them, he is popped into and out of golf holes across two continents. Some are places he has played before, while some he had simply dreamed of before.
Is it time travel, or is it just the enchantment of Gabriel's Creek?
The 18th hole is more than the end of Chris' round. On that final green, Collins finds that Gabriel's Creek Golf Course exists in neither the earthly nor the next world, but perhaps somewhere in between.